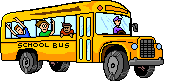 The parent/student is asked to provide........................
1. Two proofs of legal birth name (Ex. Birth Certificate and Social Security).
2. Proof of Immunization on a Tennessee School Entry Immunization Form.
3. Proof of Legal Custodial Guardian, if parents are divorced.
4. Copy of a current physical, if the student is enrolling for the first time in a Tennessee school.
5. Two documents that verify proof of residence in the school zone for a Coffee County School.